Daiwa Group's Philosophy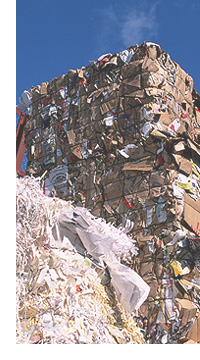 Daiwa Itagami is a recycled paper manufacturer which mainly manufactures board paper from waste paper. Recycled paper is created by dissolving paper that has already been used and has served its purpose (waste paper). We at Daiwa Itagami began the manufacturing of recycled paper over 50 years ago. There was a shortage of paper and ingredients in those days and paper was a commodity during this age of "Mottainai" (leaving nothing to waste) . Since then, Japan has been through the age of mass production and mass consumption and has seen an explosive increase in the amount of information. This has consequently diversified the usage and function of paper as a medium of information and has also increased the types of waste paper that we use as ingredients of recycled paper.
Our business field relies on the waste paper produced from factories and offices in the form of paper that has become redundant and not on procuring ingredients from the forest. It is becoming more and more mainstream to manufacture recycled paper for the sake of preserving the environment, yet it remains a fact that a large percentage of waste paper is disposed of by incineration.
Take the packaging of products on display at a store for an example, most of which are composed of a layer of resin film placed over paper. Or paper cups, which also have a laminated film coating on the inside. These papers are considered difficult to dissolve when compared to general waste paper from newspapers, magazines or cardboard and so are removed from the waste paper recovery route and disposed of by incineration.
We also manufacture recycled paper by dissolving and using such hard to treat waste paper. The usage of the completed recycled paper is another aspect just as important as the manufacturing process and techniques, such as dissolving hard to treat waste paper by just water and without the use of chemicals. The construction of a business field in which recycling-related businesses can easily get involved and where the process of waste paper recovery to usage is well-planned is crucial. Manufacturing with the aim of cheaper costs does not work in the preservation of the environment today. We believe that an open-loop recycling system that is adaptable to modern day society is essential in order to so. What is required is a system in which participating businesses can get a clear picture of the amount of waste paper they produce, as well as the amount of paper that is recycled, a system in which ""everyone can get involved
The days of us recycled paper manufacturers working alone in this endeavor are over. It is the wish and mission of each one of us at the Daiwa Group to become recycled paper manufacturers who are easily accessible and involved members of this open-loop recycling system.
---